Glowing in the wrecking yard with its PTS Ruby Star paint and Porsche Exclusive Manufacture interior, one could not pass up the opportunity to bring an exceptional Porsche back to life.
As car enthusiasts, we dream of discovering that perfect barn find tucked away in the corner under a car cover encapsulated in two inches of dust preserving it.
However, life doesn't always work out the way we envision and in this case, our "barn find" was a one-of-one rare Porsche 992 GT3 lying on its belly in a Copart yard. This GT3 isn't just rare due to the extensive options list, it is also unique in that it had been totaled not once, but TWICE in less than 4,000 miles!
The saga began in Texas where the first owner took delivery of their, no doubt very long-awaited, custom 992 GT3. Unfortunately, 5 months and 3,500 miles later the GT3 was unintentionally customized by a highway barrier and totaled. Bought at auction, repaired, and put back on the road the GT3 was tearing up the tarmac once again. However, not even 100 miles later the driver of the GT3 decided to use the front lower half of the car and a concrete curb to slow the car down instead of the brakes, once again totaling our hero GT3.
This is the sad state that Response Motors found the GT3 in, lying on its belly, in a Copart yard in Northern California with isn't suspension collapsed and the front end gone.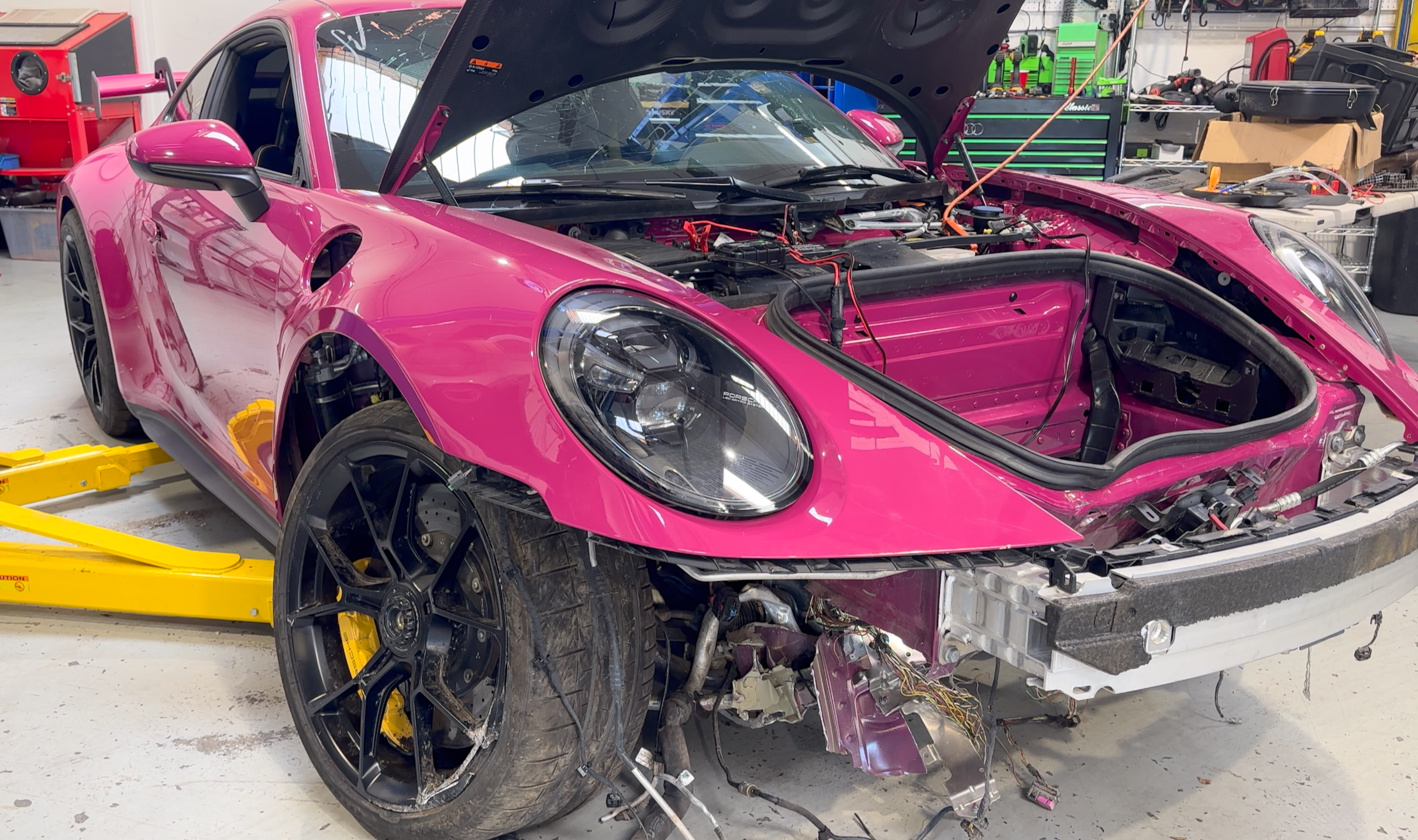 Most feel this GT3 is cursed. However, we are true enthusiasts at Response Motors and jumped at the chance to give such a magnificent Porsche a 3rd chance at life.
So join us on our adventure and watch the progress on YouTube where we will be posting weekly videos chronicling the build, don't forget to subscribe so you won't miss any of the action!